Cirneco dell'Etna puppies
We have plans for 2021-2022. For more details contact us in January 2021.
________ARCHIVE 2020________


DOB: 27 APR 2020
Stud: in Italy / both parents from 

Sicily/IT

 
🏆World winners, European winners, FI champion, IT champion, INT champion etc
Litter: 3 males & 2 females


6 200 km by the car to IT 🇮🇹just before all the boarders were closed and we have presented cirneco dell'Etna puppies to this world from two the best kennels of Italy and the world. 
No words to describe how I'm thankful to the breeders/owners of Hadranensis Toto' for valuable opportunity to make such amazing combination, for all the support I had during the stud and pregnancy of Siri, all advices and trust I got. Thank you, Jane Moore and Domenico Tricomi. Hadranensis Toto' has amazing coat for his age, great exterior, good height, nice ears, and movements of real World Champion!  And his temperament is just - LOVE. Our cirneco puppies from O-litter are:

Silvento Orpheus -  UK


Silvento Olympias - UK 


Silvento Orion - CZ (we keep breeding rights)


Silvento Odin  -  LT (we keep breeding rights if he is going to be castrated)


Silvento Octavia -  UA. Tavi is co-owned by our Silvento cirneco family
Was it expensive? Yes. Hard? Yes. But as the founder of the breed in Ukraine I suppose we had to do all the best and find the best male, and I'm sure - we did. 
________ARCHIVE 2018________
1st Cirneco dell'Etna puppies in Ukraine


Date of birth: 23.03.2018


 Stud: in Italy (Sicily) / both parents from 

Sicily

 
Litter: 3 males & 1 female

6 000 km by the car to the male from Sicily. Perfect litter. Result of this long trip ⇒ was amazing!
Exclusive in 

 - the first cirneco dell'Etna puppies and even from 

 stud. Could we find a boy closer to UA without looking for perfect pedigree, health of the male, coat etc? Yes. Was this trip exhausted? Yes. Expensive? Yes. But who told that we were looking for easier and cheapest solution?! We were going to the perfect male for our girl, taking into consideration the influence of our actions to the future of this breed in Ukraine, as we were founders of the breed in the country - the responsibility was huge. 
It took us 1,5 years to find the best one Cirneco male for our girl. Exterior (starting from the head axes and finishing by the tail set), full set of teeth, health, temperament, movement, interesting pedigree and proper lines in male's pedigree for our female - main points that made us pass this unreal & long way by the car during winter.
________________________________

 Silvento Mercury lives in Kharkiv. Mercury is in co-ownership with our family and proudly called the 1st cirneco male registered in the stud book of Ukraine (UKU). Lives in the family of well-known surgeons, people whome I already adore.


 Silvento Midas lives in Israel in the family of world-known football player. We kept "breeding rights" for Midas. Each summer/spring period Midas will live in Lithuania, so boy will live both in Israel & Lithuania. Amazing yound family. Love them.


 Silvento Mars - lives in the United Kingdom in the family with other cirneco. His owner wrote "he will live like a Lord with us". I do hope he will as this was the boy who made me cry for 2 days when he left. I like his family and hope to meet them in the next years.


 Silvento Medea - our little doll, how I used to call her. Will stay with us ♥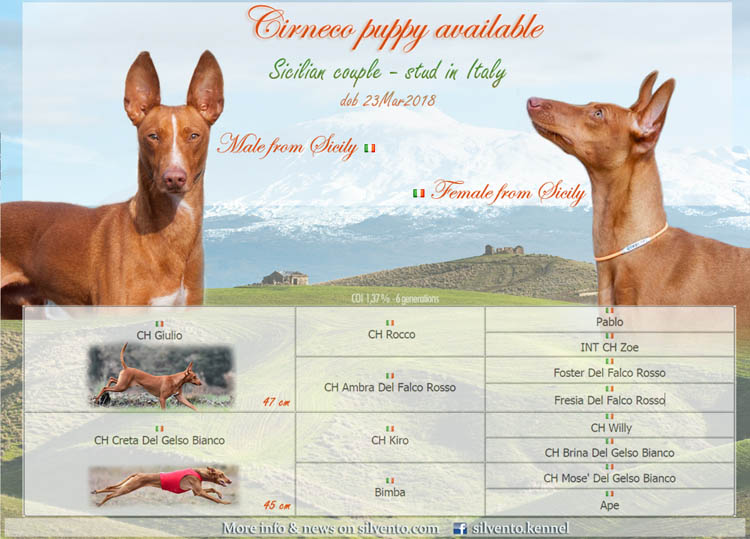 All our Silvento cirneco dell'Etna puppies left to the best one families, it was hard to decide who will go to one hands and who to other, someone were waiting for my final decision for 2 months, some people were refused at all. Sorry guys for this - but at least I know now that everything was done in the best way and all got cirneco-friends that became the perfect part of their families. As a result all our puppies will live in the houses with gardens. This is COOL! Among the owners of these cirneco puppies we have - well-known surgeons, world-known football player, FCI judge. Someone have babies in their families, some one other dogs, someone owns other cirneco. All the babies were promissed to visit dog-schools in Israel, UA, UK and all hopefully will be showed. We already love all the owners of this Silvento puppies, thank you all for being a part of our Silvento team!
________________________________________________________________