Profile:
Name: Kirill (Silvento Quirinus)
Born: June 04, 2021
Breeder: kl "Silvento"
Owner: "Silvento" & Vizhutkina E. (Kiev, UA)
Height: will be measured in dec 2021
Hashtag: #SilventoQuirinus

DNA tests and health:
Primary closed angle glaucoma (PCAG): N/N (by parents)
Progressive retinal atrophy (PRA-IG1): AA Bb Cc DD Ee
Familial Enamel Hypoplasia (FEH): N/N (by parents)
Luxating Patella: 0/0 (-/2023)
Teeth: Full set of teeth
Color genotype: ay/ay  B/B  d/d  e/e  KB/KB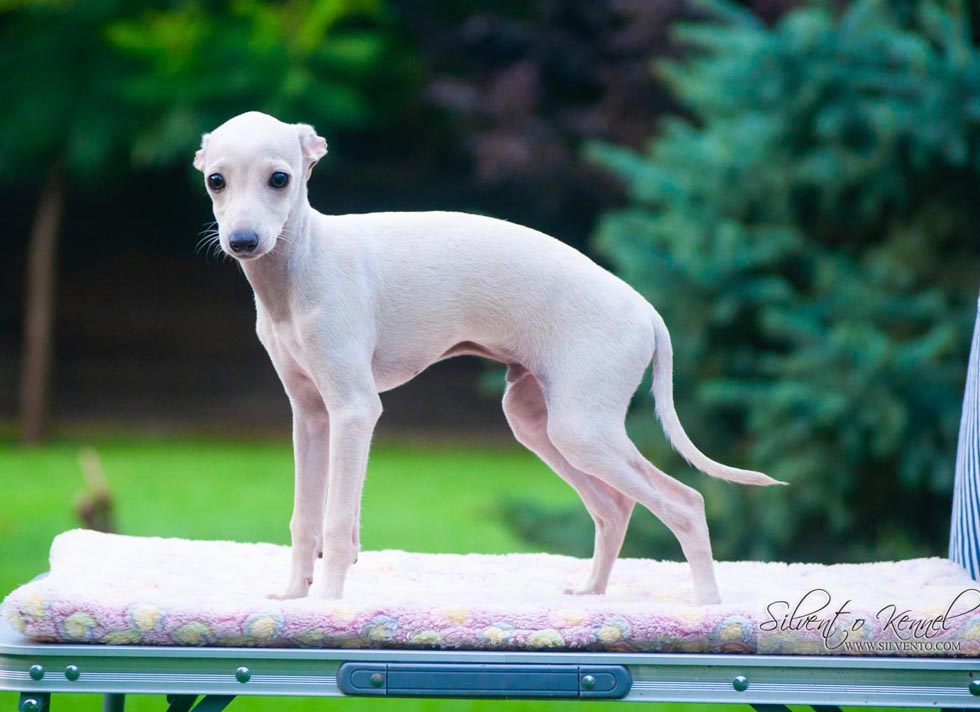 Silvento Quirinus - our iggy keeper, our hope and pride.
Italian greyhound male Silvento Quirinus left in the family and lives with Elena and Artem, being co-owned by us. Quirinus is perfect cream iggy boy with black nose, amazing temperament and HUGE heart. Lena & Artem own our other boy - blue male Silvento Kronos and they were waiting for a cream boy from us for almost 4 years. OMG. And no words to describe how I was happy get Quirinus in order to make this family even more happier
In Roman mythology and religion, Quirinus is an early god of the Roman state. In Augustan Rome, Quirinus was also an epithet of Janus, as Janus Quirinus.
Pedigree
COI → 0,89 % (7 generations)
CH

Albioli Trump

 C.I.B. Albioli Benjamin
CH Albioli Galaxy
CH I Can Touch The Sky De Magistris
 CH Ari As Key Vivien's First Lady
CH Bely Barhat So Shkodnogo Dvora

🇰🇿Legenda Arctura Fantasy Indigo

CH Silvento Euthenia
CH Inuus Forum Romanum
C.I.B. Dipsy du Domaine de Chanteloup
C.I.B. Artemis Forum Romanum
C.I.B. Silvento Diamoura Angioletta
C.I.B. Galliano P'yari Sarna
CH Mila S Alekseevskogo Dvora