Profile:
Name: Zenya (Silvento Euthenia)
Born: June 26, 2012
Coursing: runs (qualified)
Breeder: kl "Silvento"
Owner: kl "Silvento"
Height: 35 cm (official)
Hashtag: #SilventoEuthenia

DNA tests and health:
Familial Enamel Hypoplasia (FEH): N/N
Progressive retinal atrophy (PRA-IG1): AA bb Cc DD EE 
Primary closed angle glaucoma (PCAG): N/N
Luxating Patella: 0/0 (10/2017)
Eyes: ok (07/2015, Poland ESVO)
Heart:  CLEAR & no murmur (09/2020)
Teeth: Full set of teeth
Color genotype: ay/ay  B/B  d/d  Em/e  KB/-
Cream carrier, had cream puppies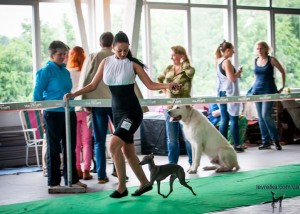 Silvento Euthenia - italian greyhound champion, mother and beloved dog with strong temperament!
Euthenia lives with Tanya - my best friend and right hand of our kennel Silvento, who is also co-owner of Silvento Diamoura Angioletta (Zenya's mother).
In 2015 we took this italian greyhound girl to Poland -1600 km were passed and ... Silvento Euthenia became the first italian greyhound from Ukraine that has passed OFFICIAL health test by polish ophthalmologist specialist and has obtained certificate of ESVO (European Society of Veterinary Ophthalmology). 
According mythology "Euthenia" → was the ancient Greek female spirit of prosperity.
Pedigree
COI → 0 % (4 generations)