Profile:
Name: Amoura (Silvento Diamoura Angioletta)
Born: May 10, 2010
Coursing: runs (qualified)
Breeder: kl "Silvento"
Owner: kl "Silvento"
Height: 34,5 cm (official)
Hashtag: #SilventoDiamouraAngioletta
DNA tests and health:
Luxating Patella: 0/0 (10/2015)
Eyes: ok (10/2015)
Heart: CLEAR & no murmur (05/2019)
Teeth: Full set of teeth
Color genotype: ay/ay  B/-  d/d  EM/-  KB/-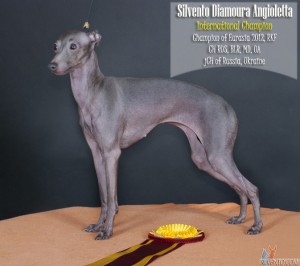 Silvento Diamoura Angioletta - is the most "kissing-girl" in our family, calm, tender, smart italian greyhound.
She is in co-ownership with our good friend Tanya, who is also right-hand of Silvento Kennel. Amoura has full set of teeth, good height, exterior and has gained a reputation of great producer.
As on 2016 - 100% of her offspring (8 italian greyhounds that were born from her) were showed at the dog-shows successfully and 50% - Champions or Junior Champions.
Pedigree
COI → 0,78 % (4 generations)