Italian greyhound puppies are born / planned 2020:
♥ 25FEB2020 - iggy puppies were born n the kennel of our friends where one of Silvento italian greyhounds was allowed to be used in breeding. We had 2 girls and 1 isabella boy from Silvento Jason. As our followers on Silvento Instagram and  FaceBook were so active that seems we had about 15 requests from all over the world for this litter out of Silvento Jason and we dont have any reservation list etc - you can try your luck and follow our Insta for more news soon - but this puppies from Silvento Jason  are reserved already.
♥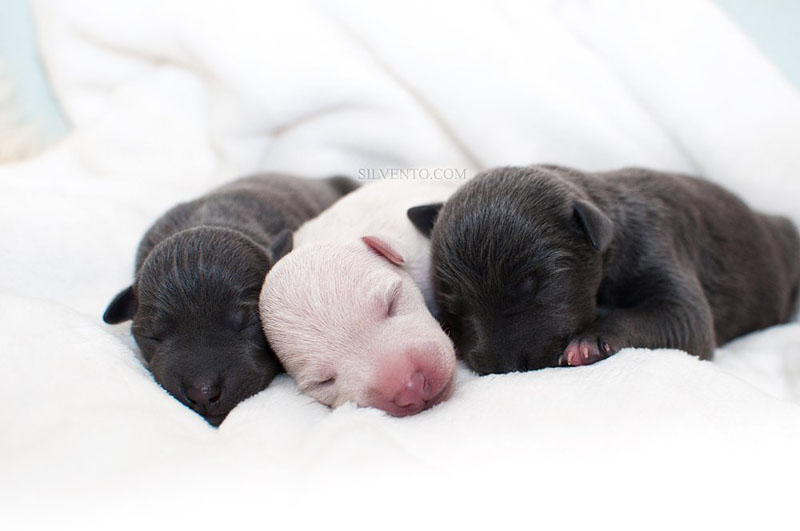 04/11/2019 italian greyhound cream and blue puppies were born. Daddy of the litter - our italian greyhound male that was allowed to be used in breeding outside the kennel. All puppies are reserved already and soon will leave to their families. Names are Alen Brussel Valentyna Premium (blue boy), Amelia Valentyna Premium (blue female), Avrora Silvento Valentyna Premium (cream female).
Our followers on Silvento Instagram and  FaceBook were so active that seems we have about 15 requests now from all over the world for Silvento Kronos's babies ♥! But as we dont have any reservation list etc - you can try your luck in 1-2 weeks 🙂
For more info pls call us or write vs email/telegram/whatsup OR follow us in INSTAGRAM /see the link in the sidebar/ 
*More photos of past litters you will find on our personal page of our family-type kennel SILVENTO in Facebook
You can contacts us any time for more info. I hope our next upcoming litter will spike you interest.
To find all the litters that we had - please follow LITTERS section
__________________________________________________________________
I do prefer much more ordinary homes to our puppies than "show", so if you just want a puppy, as a friend and member of your family - please don't be afraid to contact us! I would be happy if your are interested in dog shows but if you are not interested in any of the dog activites that's not a problem at all for us. When contacting us, introduce yourself - just some words about yourself, your family, where you live, why you are looking for a puppy, do you want a dog that will be showed or you dont care about shows, do you have other dogs etc.
Please remember - we dont have any waiting lists and I will never promise a puppy to anyone until we see what we have. If in some moment I understand that the puppy that you decided to choose will not satisfy your expectations in future as a show-dog we will be honest and will refuse you or will offer other puppy from this or next litter and that's the reason why we DON'T take ANY reservations on puppies untill I see all the teeth of the puppies and may see how they grow and develop - if we offer a puppy that is promising for shows, we do want you to get really good puppy and for sure it may take some time to choose the best puppy for your family so be a bit patient! As you could see we leave 1-2 puppies from each litter in co-ownership OR keep breeding rights as our breeding do means a lot for us, all the owners of my dogs are my friends and part of our huge Silvento family and will be happy to see you as a part of our team as well!
Alina Stakhorska