Profile:
Name: Senya (Silvento Jason)
Born: November 30, 2015
Breeding status: opened for studs 
Frozen semen available
Breeder: kl "Silvento"
Owner: "Silvento" &Grinuk U. (Odessa, UA)
Height: 37 cm (official)
Hashtag: #SilventoJason

DNA tests and health:
Familial Enamel Hypoplasia (FEH): coming soon
Progressive retinal atrophy (PRA-IG1): AA bb CC DD EE
Primary closed angle glaucoma (PCAG): coming soon
Heart:  CLEAR & no murmur (08/2020)
Teeth: Full set of teeth
Color genotype: ay/ay  B/B  d/d  ?E?/-  KB/ky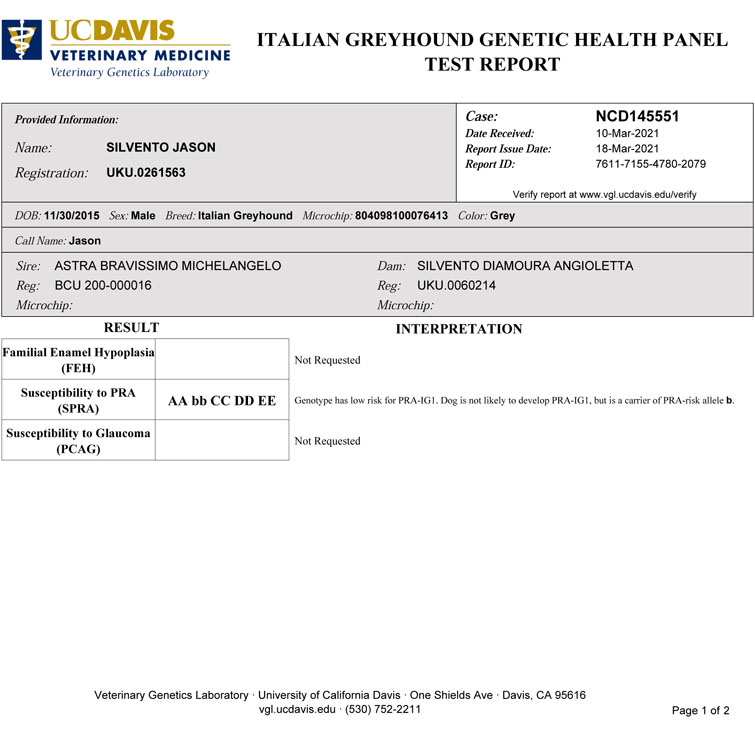 Silvento Jason - daddy, champion, was showed a lot, finished obedience training even, he has amazing temperament and very well behaved italian greyhound boy.
This italian greyhound male was born from the stud that took place abroad and was the only one puppy in the litter so it was decided that he should be left in the family for sure. Jason is co-owned by us.
According to mythology "Jason" → was an ancient Greek mythological hero who was famous for his role as the leader of the Argonauts and their quest for the Golden Fleece. 
Pedigree
COI → 1,17 % (5 generations)
CH Astra Bravissimo Michelangelo
C.I.B.

A Toroidal lhc Apparatus

Texas Roadrunner For Caveja
CH Anghelu Ruju Melissa
C.I.B. A

lexa Astra Bravissimo

CH Adelchi Sirio
CH Marta Magija
C.I.B. Silvento Diamoura Angioletta
C.I.B. Galliano P'yari Sarna
C.I.B. Nico
Aisha P'yari Sarna
CH Mila S Alekseevskogo Dvora
 Sedgar
CH Beatris De`Mopagu