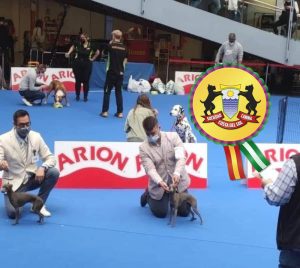 They will not stop to surprise me. It was ordinary day till my WhatsUp sent me some sound....and WOW - it was amazing news from Spain. Our little italian greyhound girl Silvento Nemea after 1,5 years of rest due to COVID is back to the shows and with such amazing success. Nemea got her first CACIB - being judged by Angela Ramírez Hauncher in competition of 4 females in the ring.
Sun Coast Winner
Malaga, Spain, 21/11/2021, CACIB
Silvento Nemea - CAC CACIB BOS 
My congratulations to the owners of Nemea, huge thanks to her handler Alfredo and warmest congratulations to the owners of our competitors - italian greyhound females: Ackra's La Capricciosa, Reina Du Domaine De Chanteloup, Jazmin de Carboneros. Bravo to everyone and to La Real Sociedad Canina de España (RSCE) for having this amazing dog-show during Covid time!