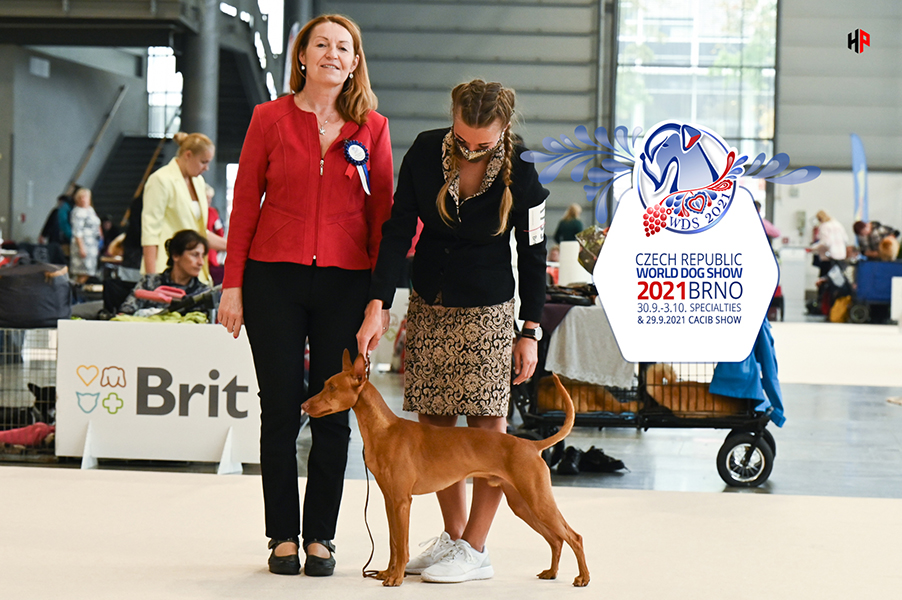 Once I was told that you are considered to be kinda top-breeder only if you "gave birth" to the World Winner. But I was also told – that it is almost impossible. And it took us 16 years and seems it is time now to be proud.
It was emotional day, full of tears of happiness when I saw that 
Silvento Orion
became best male again and it meant that he got title
World Winner
automatically and later just unbelievable result – Orion became BOB 🤩  .
World Dog Show 2021.
03/10/2021 CZ, Brno
Judge – Claudio De Giuliani (Italy 🇮🇹)
Handler: Pajush Pavlína Plucnarová🙏🏻 Owner: Eva Kolackova. Breeder – Silvento 🤗
Judge Claudio De Giuliani was strict with the hight as always so many dogs of different breeds left ring at that day with "very good" mark, and as it appeared only in several hours – when I got full results – cirneco breed had no Vice WW even … sad … but it made us to be even more thankful for having our WW title.
My huge congratulations and thanks to the breeders/owners of 𝗛𝗮𝗱𝗿𝗮𝗻𝗲𝗻𝘀𝗶𝘀 𝗧𝗼𝘁𝗼' for valuable opportunity to use Tote. Thank you, Jane Moore and Domenico Tricomi. This win will not be real without all you and breeders of Creta DGB – Aiello family from Sicily!
What a happy person I'm to have such amazing people in my life like Orion's owner – Eva! Having TOP dog from the breeder means almost nothing – as 50% of success depends only on owner
You are my biggest pride, Eva Koláčková. Thank you so much for being a part of our team, my thanks to your husband and Gaia for their support and help and for all your time and efforts❤️Orion left to the right family and I knew it from our first call
BTW before World Dog Show there was IDS in Brno where Orion finished CH CZ title, being Best male with CACIB. But I suppose being WW is the TOP of all the estimations and title dog may have, thank you, Eva – for this hard route and sweet win!
Proud to have such owners!
Full cirneco Dell'Etna results of World Dog Show 2021:
Result

Class

Dog name

Kennel

Owner

ABS

Puppy Class

♂ Zammu dei Vignazzi

dei Vignazzi

Alexander Solonevich

Very good-1

Junior Class

♂ Sasá dei Vignazzi

dei Vignazzi

Michaela Vedrődyová

Very good-2

Open Class

♂ Colisto's Pasquale

Colisto's

Vironika Bass-Pastushenko

Exc-1, CAC,

BOB

, CACIB


FCI World Winner 2021

Open Class

♂ Silvento Orion
Silvento

Eva Koláčková

Exc-1, CAC

Champion Class

♂ Attilio Miracolo Cani di Luca

Miracolo Cani di Luca

Lucie Adámková

Exc-2, R.CAC

Champion Class

♂ Belenus Benu Wai-Wad

Wai-Wad

Jitka Kutiová

ABS

Champion Class

♂ Tesoro Solare Fortunato

Tesoro Solare

 Maria Evteeva

Exc-1, CAJC,

BOS

, BOJ


FCI World Junior Winner 2021

Junior Class

♀ Camara Rheia Wai-Wad

Wai-Wad

 Jitka Kutiová

Exc-2

Junior Class

♀ Sikelia dei Vignazzi

dei Vignazzi

Olga Šmukerova

Exc-1, CAC, CACIB


FCI World Winner 2021

Champion Class

♀ Buri Birdu Wai-Wad

Wai-Wad

Jolana Janouchová