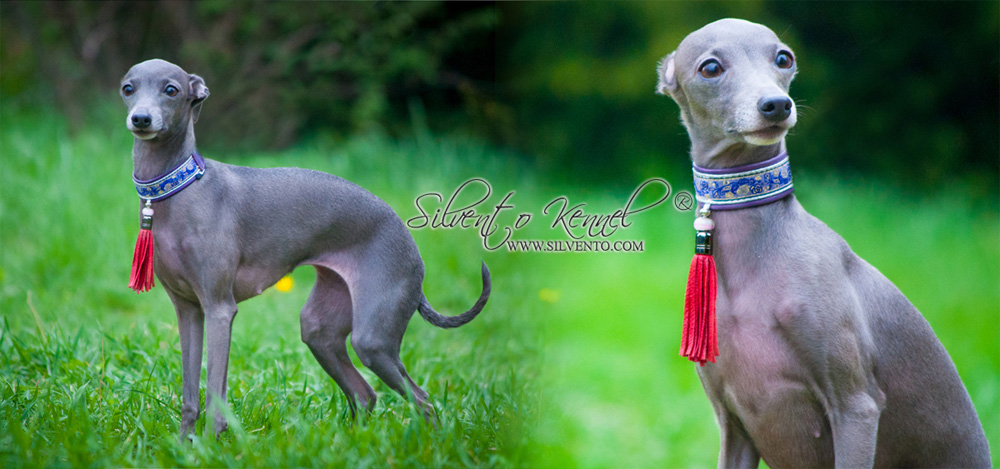 Italian greyhound - Silvento Euthenia aka Zenya, finished her Champion of Ukraine title! It was quite cold weekend in Kiev and honestly, after almost a year of rest at sofa - Zenya did her best and was showed almost perfectly, even kissed the judge. Silvento Euthenia was showed by our friend Lida Antonenko as I was too busy with my cam and photosession of other Italian greyhounds in the ring and Tanya after her trauma of the leg couldn't run till summer. During the first show Lida couldn't cope with Zenya in the right way in the ring so she wasn't showed well indeed and as the rest of the bitches at that show got very good mark. To other italian greyhound bitches did the same results at this day and there was no Best Bitch chosen. First day was judged by Hlebarov from Bulgaria. During the second day italian greyhounds were judged by Sarmont (Belarus). Zenya was loved by the judge, got her CAC. We are thankful to Lida for her help at showing Zenya in the ring and to both judges for their time and description. Silvento Euthenia finished her CH UA title and it means that ... maybe she will be mated with italian greyhound male (name will be published soon) this year already. More info at Italian greyhound PUPPIES page.
Kiev, Ukraine
САС, 03.05.2015
6 IGs
Judge - Sarmont (Belarus)
Silvento Euthenia - exc CAC finished CH UA
Also has to admit that last weekend Silvento Euthenia's daughter in RUSSIA - Silvento Hestia that is co-owned by our kennel, was showed in Russia and got her first russian jCAC. Silvento Hestia is Junior Champion of Kazakhstan already and seems has made her first step in finishing jCH RUS. My congratulations to Goncharova Jana, co-owner of Hestia. Well done, girls.
Zlatoust, Russia
САС, 26.04.2015
2 IGs
Judge - Galiaskarov (Russia)
Silvento Hestia - exc jCAC BJ