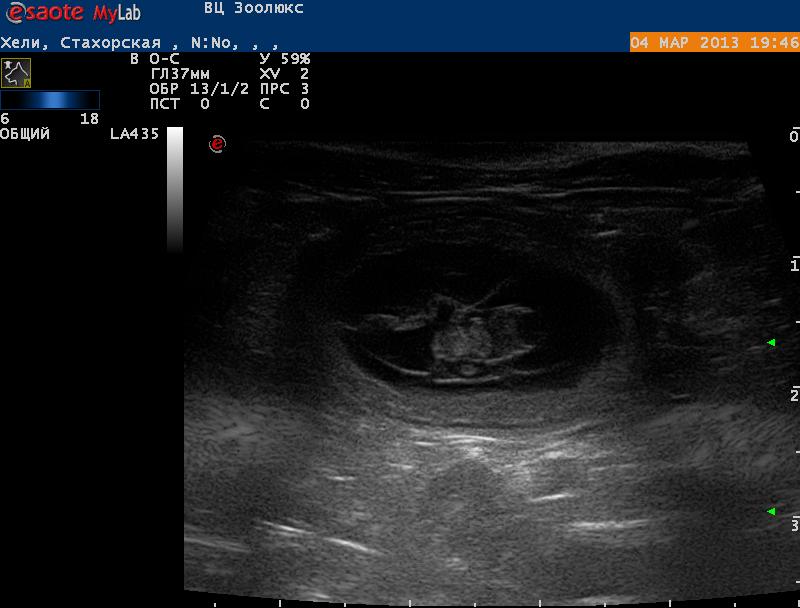 Long time passed since our last puppies updates : ). So finally we have situation a bit clear - Silvento Diamantine Tenera is defenetly pregnant from Eledi Grace Rubianno and puppies are expected from 18 to 22 March already, according to ultrasound that Tina had she is gonna have 2 babies! All the info - including future pedigree of this litter you may find on PUPPIES section. Owners of Tina finally got confirmation for registration of their own kennel name, so Tina will become the foundation bitch in their kennel and will give - I hope - nice litter for new ukrainian kennel of Katya and Sasha "Fiesta Ventura" (Dnepropetrovsk, UA).
Other more great news are from our own kennel Silvento - our Hellica Forum Romanum, according to ultrasound that you may find on my youtube stream Pregnancy Video 1, Pregnancy Video 2, Pregnancy Video 3, is pregnant by 2 babies and whelping is expected from 30 Mar - 3 April. On the photo you may see one of her babies. I do hope all girls will have easy whelping : )
Future pedigrees as well as all the info about this 2 upcoming litters you may find in the section PUPIES of our web-site.
This year we plan one more litter - our bitch Silvento Diamoura Angioletta will be mated this autumn, all the info will be published this summer only.