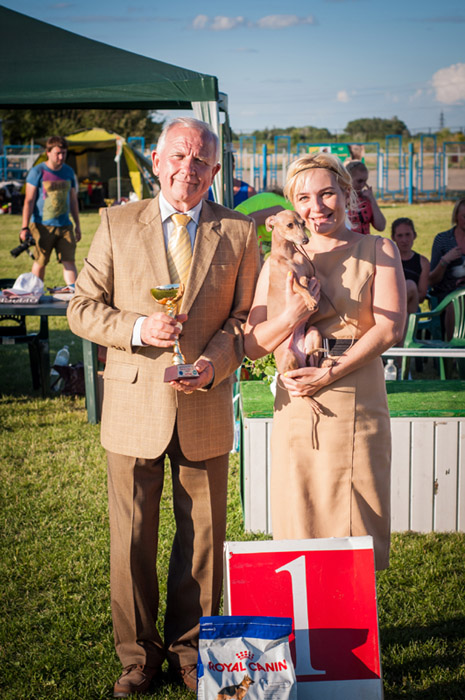 We were so happy with our italian greyhound puppies that totally forgot about show news and our elder dogs. During this weekend there was a CACIB dog show in Dnepropetrovsk where Katya showed Lucilla Forum Romanum. Here are the results from the dog-show in Dnepropetrovsk city:
Judge – Peter Harsanyi (Hungary) – 4 IGs
15/06/2014
Dnepropetrovsk, CACIB
Lucilla Forum Romanum – exc  САС  BB  CACIB  ВОВ  BIG-1
My cograts to Katya and Sasha with Luci's results. Not looking to her post-whelping period she looks great!
Want to admit good result of IG from our E-litter. Silvento Eleusis was showed at the double CAC show in Kiev (June 7-8). He was not very successful on the first day and got VG but was showed well by his co-owner. During day 2 of the show Eleusis won the ring and became BIG-3 from 4 sighthounds. Well done! My congrats to his co-owners Liuba and Slava.
Judge – Pavel Karpov (Ukraine) – 4 IGs
08/06/2014
Kiev "Espri Cup" – CAC
Silvento Eleusis – exc  САС   ВОВ  BIG-3