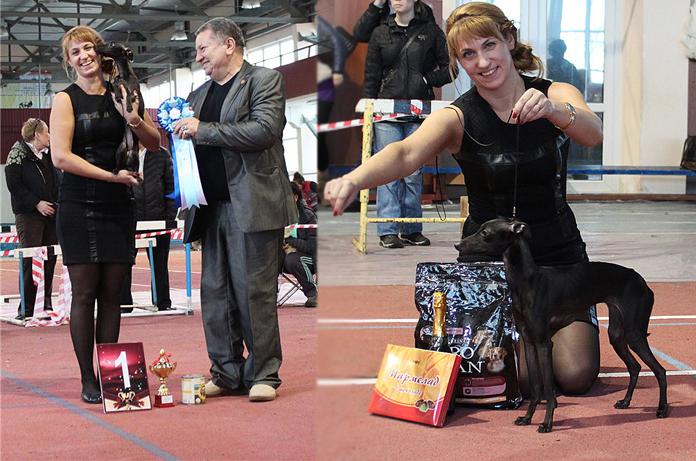 Seems it was the most crazy trip of Yana Goncharova, who passed 3000 km from Russia to Kazakhstan in order to participate in 2 dog shows with our black star - italian greyhound Silvento Hestia. Yana is a real hero after this long trip that took 4 days. It was really 4 days of my nerves, sleepless nights and finally I've got a message from Yana about her safe way back home and results of Hestia. We are thankful to Yana for all her efforts, care about Silvento Hestia, amazing demonstration of Esti in the ring, for the hard way she passed. My sincere congratulations to Silvento Hestia's co-owner Yana with the win of this black pearl Esti. Just a week has passed since Silvento Hestia entered junior class and since that time she finisher her first Junior Champion title, got her first BOB and BIG-1. Well done, girls, we do proud of you both!
Karaganda, Kazakhstan
"Central Kazakhstan"
САС 21.03.2015
Judge - Mark Zaturinski (Kazakhstan)
Silvento Hestia - exc jCAC BOB BIG-1

Karaganda, Kazakhstan
"Nauryz-2015"
САСIB 22.03.2015
Judge - Stephan Popov (Bulgaria)
Silvento Hestia - exc jCAC BJ Junior CH of Kazakhstan 
..
.