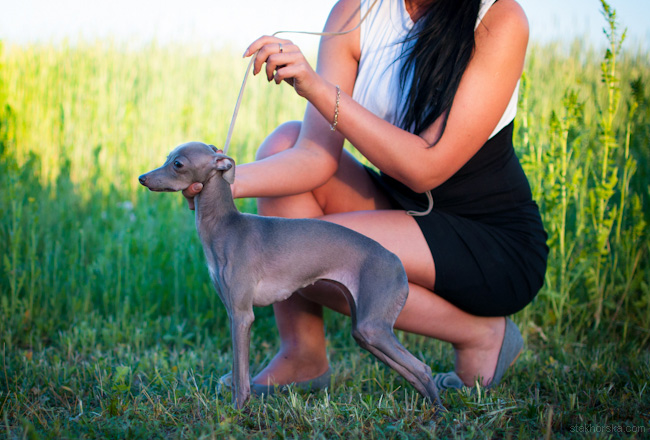 Well, probably I missed news from 3 dog-shows where our dogs were showed. Will start from the begining. In Kharkiv on May 1, when all the Ukraine had day-off because of the interhanional holiday, Natasha, owner of Silvento Eucleia (aka Leica), spent half of the day at the dog-show with Leica - it was first show of Leica is junior size. Not looking to her VERY small height Leica took jBOB and jCAC.
Judge- Oleynikova Zoya (Ukraine)
Silvento Eucleia - exc  jCAC  jBOB
On May 11-12 we decided not to spend holidays in Kiev but to go to Dnepropetrovsk with Tanya Stanishcheva - our right-hand in the kennel. It was double CAC show, where 2 italian greyhounds from our kennel were showed - Silvento Euthenia and Lucilla Forum Romanum. Silvento Euthenia (Zenya) was jBOB both days, she looks better and better after the trauma and only one jCAC is left for Zenya to obtain JCH UA title, Lucilla Forum Romanum (Lucci) was BOB both days and BIG-3 on the first day of the show and BIG-2 on second day of the show. Not looking to awful roads after this winter in Ukraine, long way, slow traffic (or we had to drive 60km/h or 180 km/h - and nothing average) - we still enjoyed our trip, saw Katya and Sasha, our grand-children - babies of Silvento Diamantine Tenera. I'm thankful to Katya and Sasha for their hospitality, tasty breakfast, to Tanya for a nice company during 1000 km we passed and to judges for excellent results!
12/05/2013
Judge - Deduk Natalia (Ukraine)
Silvento Euthenia - exc  jCAC  jBOB
Lucilla Forum Romanum - exc CAC BOB BIG-3
12/05/2013
Judge - Bubelik Natalia (Belarus)
Silvento Euthenia - exc  jCAC  jBOB
Lucilla Forum Romanum - exc CAC BOS BOB BIG-2