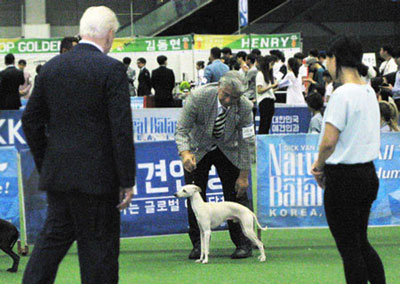 South Korea - again with great news from the owner of our baby. Was happy to get show-results from the South Korea where our cream italian greyhound male Silvento Kupidonas was shown for his second time in junior class at the International FCI dog-show.
We are VERY thankful to Kupi's owner for all his care, love and showing Kupi, by the way Kupi is called "쿠피" in korean. Sighthounds were judged by John Reeve-Newson from Canada, owner of afghan hound, borzoi and italian sighthoundsKishniga Kennel. @Photo by  Mr.Lee - owner of Kupidonas 산성
02.07.2017  "International Dog-show FCI"


Korea Kennel Federation, FCI / г. Ilsan / Seoul
Judge - John Reeve-Newson (Canada)
Silvento Kupidonas - jCAC