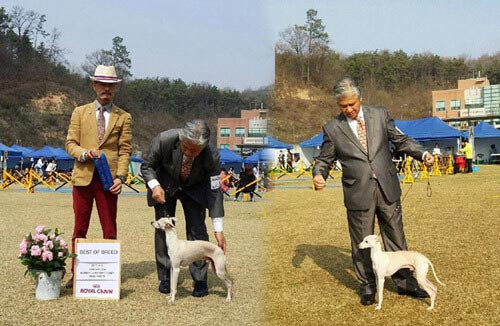 Was happy to get show-results from the South Korea, where our 10 months old italian greyhound male Silvento Kupidonas was shown for the first time in junior class at the "APCS Championship Dog Show" - that was held by Korea Kennel Federation, KKF. This cream boy got his Best of Breed at the first show. We are so happy and proud.
We, as a breeders, are VERY thankful to Kupi's owner for all his care, love and showing Kupi, by the way Kupi is called "쿠피" in korean. Sighthounds were judged by Christopher Changhyun Lee from Korea, owner of afghan hound kennel Casanova Aeryi Kennel. @Photo by the owner 산성
08.04.2017  "APCS Championship Dog Show"


Korea Kennel Federation, KKF / Hanam city (하남시)
Judge - Christopher Changhyun Lee (South Korea)
Silvento Kupidonas - jCAC BOB