Italian Greyhound puppies from the last litter left to their new homes. Two babies left in co-ownership with us, and one will be used in our breeding ... maybe one day and I suppose all 3 fount best homes indeed. This litter ment a lot for us!
It took some time for us to decide to take a risk and make stud abroad - winter, snowy roads, boarders full of cars, slippy road not a cheap stud at all, and it could became a real disaster for me if Hellica is pregnant. Butshe got pregnant and now, looking back, I may tell that all this was worth of it even if I don't repeat something like this again... Italian greyhounds from this litter were sold for cheap indeed but to the best one homes in the world and with the best conditions for us as all 3 puppies were left "in family" somehow, even if to consider that most of them left abroad. In any case due to my often business trips abroad I hope I will see our puppies oftenly.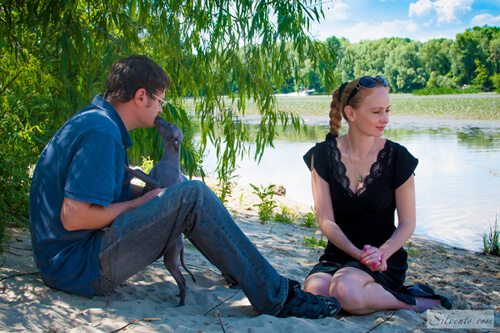 Silvento Gaia our sweetest baby from the family - Gaia was left in co-ownership with me in Kiev (Ukraine).
Gaia fount her amazing family - Iryna and Oleksandr, who have IG-care experience already, american IG but still IGs, and in a month Gaia will meet younger member of her new family (daughter of Iryna and Oleksandr). Gaia is totally abnormal TENDER girl and it is just impossible not to fall in love with her. Once I tryed to treat her, because she stole pen from my bag, for sure I failed ... she has such eyes and such a kissing behave that just impossible to treat her in other way.
I hope one day we will see Gaia at the show and hope it will happen very soon!
Silvento Galatea, my smart ass girl )) ... the first one who left the home, my the most loved baby. Tea left to RUSSIA (Moscow), where she fount the best one mom Marina and her son Danila. Tea wont be used in breeding and will be spayed soon so we hope she will have healthy long and happy life. Tea was different from the begining - sweet, smart baby who understood me from the first word, now this amazing girl brings joy to her family everyday. And I do hope in the nearest future I will see her and her owner Marina again.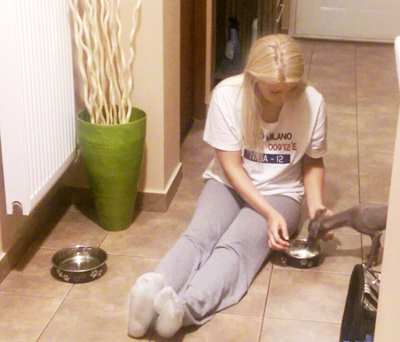 Silvento Glaucus the only one male from this litter. Macho-boy )) Glau left to HUNGARY (Budapest) right after his quarantine finished. Glau has the most amazing movements I ever saw at "puppy age" and I do hope he will be good mover in future, he is a small clone of his granddaddy Il Cagnolino Fernando. Glau fount wonderful family Agnes and Zoltan and is like a small child there who enjoy his life and hopefully makes life of his owners happier too.  I'm thankful to our friends from UA (Marina and Victor) who agreed to change their route and deliver Glau to Budapest on their way to Paris.
We wish to all our italian greyhound puppies long and happy life with theiramazing owners! I'm thankful to Marina, Iryna, Agnes, Zoltan, Oleksandr for all their care, love that they give to their dogs. My BIG thanks as well should be adressed to Тania Stanishcheva, our right-hand in the kennel - the only one person who has key from my house, and who helped so much with this litter.