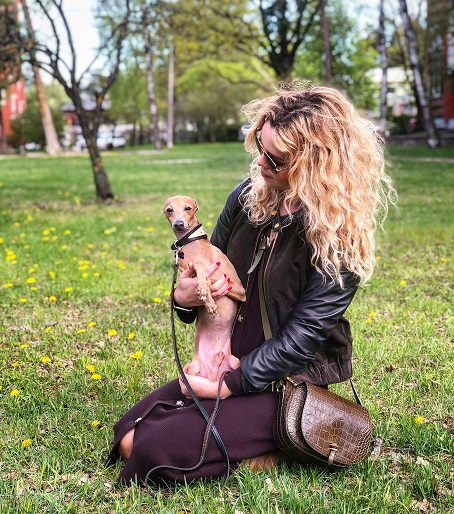 It was some magic. With my brains.
I was drinking my cold tee in the office in Kiev / UA/ where it was about +25 and in several hours I was with the ticket on my hands travelling to Tallin /EST/ where it was +3 only. Let's suppose that I was crazy but with my totally frozen red hands and nose I was drinking martini with my friends in the bar that evening already. We had nice talks with my friends and Karoline from Tallin, who is the owner of our italian greyhound "grand" daughter btw -  Celestina Fiesta Ventura. In several days after a short trip by the car and ferry to Finland we went to Latvia where I was SO happy to meet with Ieva Bertina ♥ - owner of our one more "grand" italian greyhound male Cairo Fiesta Ventura. BTW one of the best males in Baltic states according the rank of sighthound Club of Latvia. Our Champion, beloved dog in his family - he lives with his italian greyhound girlfriend Astra Bravissimo Gisele in Latvia and finished his CH LV title just 2 days before we arrived.
Cairo has titles UA JCH, LV and LT CH, EE CH, LV SIGHTHOUND CLUB TOP-2018 ITALIAN SIGHTHOUNDS (22 dogs) and I'm proud that all this is Silvento "grand-son".
Italian sighthound male Cairo Fiesta Ventura opened for studs in Latvia, Lithuania, Estonia, Russia, Ukraine etc. and makes us feeling proud with his results as well as his mother - italian greyhound Silvento Diamantine Tenera by such beautiful son. Wish you good luck, our boy.
Regarding all stud questions of italian sighthound male Cairo Fiesta Ventura - feel free to contact © /owner of Cairo Fiesta Ventura/ in Latvia.