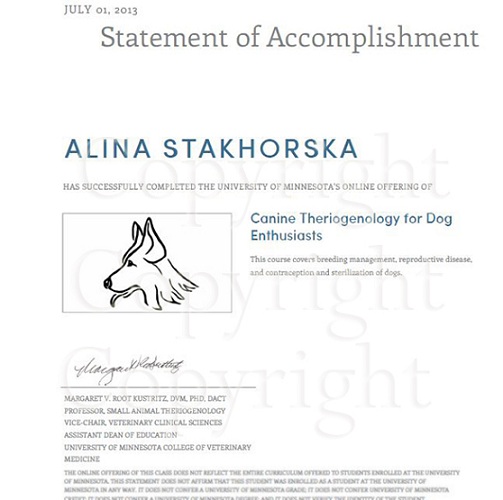 I'm always full of wish to study, get new knowledge and it is not always something that should be connected with my job, it maybe psychology courses, philosophy, photo-courses, cynology and this time it was Canine Theriogenology! Every dog owner should have some understanding of reproduction, whether they intend to breed that dog or just want to have their dog spayed or castrated. Course was for people who wanted to understand their dog's reproductive health better and to find out how to control its reproduction. Probably it was some kinda Dog Breeder's Guide to Successful Breeding and Health Management that was provided to us by University of Minnesota. As a good student, for sure I finished this course with 100% and got my Statement of Accomplishment signed by the instructor - Margaret V. Root Kustritz (Professor, Vice-chair, Assistant Dean of Education College of Veterinary Medicine University of Minnesota). I'm thankful for the possibility I've got - to study this amazing course, and for sure to the Professor Margaret V. Root Kustritz who did all her best to make this course of Canine Theriogenology so interesting to all the students! Thanks to all the team of the course : )
From other news - our Tanya Stanishcheva (co-owner of my italian greyhounds, who is considered to be my right-hand in the kennel) successfully finished course cynologist-breeder of Ukrainian Kennel Union (UKU) that lasted for 1 year and was provided by Sumy National Agrarian University.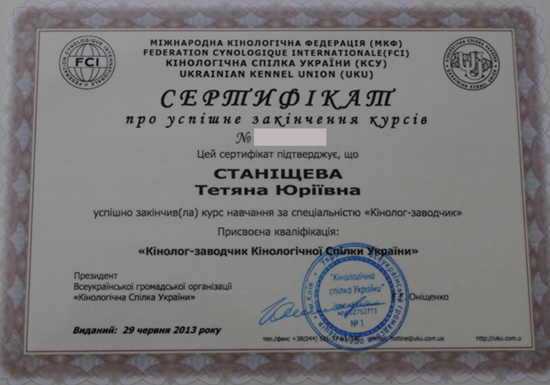 I'm proud of Tanya as it was a great step from her side to start this course and even more to go into the practice to Sumy city where she spent several days in the kennel of State Emergency Service of Ukraine! Just want to admit that I finished this course as well but it was 2 years ago and this time course was again supported by Liudmila Bula - judge, zootechnician and worker of Sumy National Agrarian University.
Except all these achivements just want to share by some more news. On June 15-16 there was 2 shows in Dnepropetrovsk - CAC and CACIB where our Dnepropetrovsk team took part with italian greyhound, that is co-owned by us - Lucilla Forum Romanum who was 2 days BOB! I'm proud of Lucci and her owners Katya and Sasha - well done!!!